dog crate training..intro to doggy-condos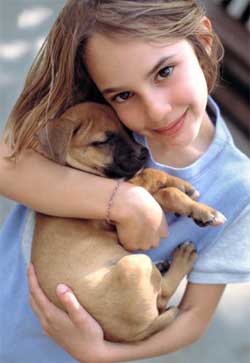 When dog crate training is properly implemented, you'll wonder why there is such a debate over the topic.
Some people believe that putting a dog in a crate is the same as sentencing an animal to prison.
Nothing could be further from the truth.
Fact is, dogs have a natural instinct to den. The purpose of dog crate training is to mimic a dogs natural den needs. It provides your pet with its own zone of comfort, a safe, quiet area to rest.
Benefits:
Most dogs have a natural instinct not to soil their den area. Using this natural behavior is why dog crate training is such a valuable tool in house training your pet.
They provide a sense of security for your dog. The crate is a safe place where your dog can go to relax or sleep
Keeps them safe from any dangerous household items when unsupervised.
Prevents destructive behavior and gives him an alternative place to satisfy chewing behavior with a durable chew toy.
Helps in possible future behavioral issues such as separation anxiety.
Crates are a safer way to transport your pet.
Basics:
The crate should be located in a quiet area. Avoid high traffic areas like kitchens, hallways and doorways.
Choose a crate large enough for your dog to stand up, turn around, and lie down. If the crate is too large, your dog will relieve itself in a unoccupied corner and that is not the goal. Dividers can be set in place to eliminate this problem.
Crates come in two basic designs, wire frame and plastic. If your puppies breed is a large dog species, purchasing the large wire-frame crate may be your best option. These products usually come with an inside wire divider so they're adaptable as your puppy grows.
*Place a towel over the top of a wire frame crate for more of a cave like feel*
Choose a nice comfortable dog bed to place inside. We're not looking for a billowing cloud of puffiness. Keep it basic with about one to two inches of padding. The material should be a rugged washable fabric. Choose a fabric that your dog won't chew into shreds.
Wide based food and water bowls can be placed inside to further let your puppy associate the crate environment as a home.
You should always remove your dogs collar before leaving him unsupervised in his crate to prevent possible choking.
Never punish your dog when it's inside his crate. This will totally defeat any goals you have and ruin your dog's sense of security it may have gained in it's new home.
Practice:
The easiest way to achieve your goals in dog crate training is with treats. Start by placing a treat or his favorite toy outside at first, and progressively further inside the crate so your dog can find it. This may take some patience at first, so don't be in a rush. Remember your goal is for your dog to happily enter his crate on its own free will.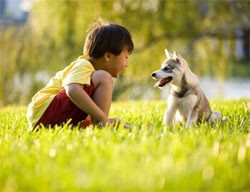 Once your dog seems comfortable inside, you can gently close the door. Do this for very short periods of time at first, you're not trying to give the impression of a lock-down.
If you're dog is progressing nicely with the short intervals, increase the time the door is closed. Gradually move away from the crate with the door closed, but stay in your puppies field of vision. Believe it or not, you're also helping your dog to avoid separation anxiety as well as dog crate training.
The next step is to place a toy or treat inside the crate then close the door. Allow your puppy to see this and if he desires the object inside the crate, open the door for him. If your puppy goes in and fetches that toy or treat, you're well on your way to associating a pleasant environment inside of his new home.
Practice this exercise often, praising your pet for good behavior. As time goes by, your dog will be more comfortable and happy to enter his new den. Gradually increasing the amount of time you leave the room with the door closed on the crate, and returning will reassure your dog that you will return. This is important, because this trust in you coming back will in the long term relieve any separation anxiety behavior.*Don't* make it a big fuss when returning, just be calm and relaxed to promote a non-hyper reaction.
If the dog is wired for sound when you return, stay calm and ignore it's behavior till it settles down, then let him out when calm.
Associate a name with your puppies crate such as "bed" or "home". Using a single word will help later for your dog to understand what you're talking about when you tell him to go to bed.
The maximum amount of time spent inside the crate for a new puppy as a general rule is there age in months plus one (hours). But this does not account for a puppies need to relieve itself. So, you won't be getting much sleep the first few weeks.
During the day when you're up and about, leave the door open on the crate if not in use. Try playing games with your puppy and place a treat inside the crate. A little game of go fetch is a fun way for your dog to get used to going in and out of his den.
As you can see, dog crate training just takes a little patience and understanding. The future benefits by far outweigh the time and effort that you put in now. You'll be happy that your dog will be safe in it's crate when unsupervised, and your dog will be happy to have its own safe, quiet, and comfortable place.
---
---