winter dog care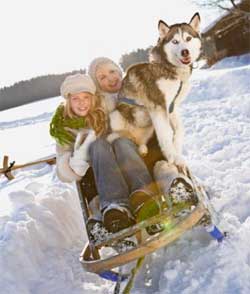 Winter dog care should come to mind as we are in the middle of winter, and the weather outside can be darn frigid. Just as we bundle-up for freezing temperatures, your dogs body can get just as cold and also needs protection from the elements.
Some breeds are more tolerant to cold weather, but they still need proper winter dog care when dealing with old man winter.
Dog clothes are no joke in the winter. They provide added insulation for short hair breeds and protect against wind-chill. Winter coats are made of a variety of fabrics, but consider materials that allow breathing such as wool.
Proper fit is important as well, so the coat or sweater should allow room around you dogs neck, shoulders, and chest. Just take the required measurements to the pet-store, or better yet, custom fit him/her there.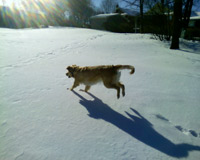 Paw protection is also important. Frost bite is very painful in humans and dogs so invest in some comfort for your pet with a set of dog-booties.
They can prevent frost-bite in you dogs paws, as well as giving more traction on ice and snow. Remember to keep those nails trimmed too as they could tear through the booties, and besides, keeps your pooch comfortable.
Need cheap winter dog care supplies? Try looking at Thrift-stores and bargain shops for baby booties. These can be used as winter-paw boots.They are cheap and comfortable since there made for human babies and usually constructed of wool.
Once your pet get's accustomed to wearing booties (this can be a feat in it's self :) they will be more comfortable on your out-door activities. If they become soaked with water time to dry wipe your dogs paws and get indoors. Wet paws and freezing temperatures are an invite for frost-bite.
When inside, check out you dogs paws and remove any ice-chunks and dry well. Road salt that may have been picked up can be harmful to pets if ingested, so a good wipe down is important. Also take the time to check inside the ears for packed in snow or slush. Simply dry them out with a ball of cotton to prevent possible ear inflammation or infections.
Proper diet is important any time, but if you have a dog that loves the winter increase the amount of food. Dogs like us need calories in winter for insulation as well as energy. If your dog is very active, increasing the diet won't hurt, especially proteins required for healthy coats
Puppy's and senior dogs may not be as tolerant to colder weather. Potty training puppies in winter can have it's issues, so take your pet outside just to relieve itself and back inside. Older dogs need more care and may not cope well with frigid temps either due to health issues, so the same goes. Outside for relief then back inside to a cozy home.
Hope this helps in keeping your dog active, fit, and comfortable in the winter months.
Best wishes from dog care basics
---