Puppy Socialization | Behavior Training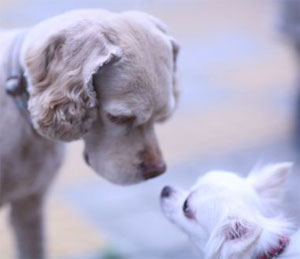 Puppy socialization and its effects on the future behavior and emotional development in a dog simply can't be over emphasized.
There is a brief yet crucial window of your puppy's progress when socialization stimulation is at its optimal.
A puppy has already learned rudimentary social behavior skills from its litter mates after the neonatal stages of sensory and motor development.
Signs of primary social behavior in the form of tail wagging, bite inhibition, and rickety social dominance become apparent in 3 to 5 weeks. A puppy then begins to emerge into a second socialization phase with signs of bonding, active and eager social interaction, and play occupying most of the puppy's time.
Stability in learning occurs, and this stage is the most advantageous time for training puppy socialization. It is widely regarded but not limited to be the first 18 weeks of your puppy's life.
Its importance is enormous, and early social stimulation and the degree of emotional reactivity observed in the adult is a direct correlation to infant stimulation.
Early training and proper puppy socialization appears to immunize juvenile dogs against many adult dog behavior problems such as:
hyperactivity
excessive fearfulness
aggression
separation anxiety
and general disobedience
For your puppy to succeed, we need to set him up for success. Socialization training is the practice of introduction for your eagerly adventurous pet. This includes people, other dogs and animals, environments, situations, and all things you may or may not foresee in everyday life.
It's an incredibly fun time for you and your puppy as it should be.
Training needs to be calm and patient to engender an infant dog with a positive response toward people, as well as calmly and confidently accept any situation.
Social inter-action

If your puppy hasn't had its initial vaccinations, doesn't mean you can't begin socialization at home. Training in public areas should be avoided until the puppy has been immunized for your pup's health and others.
Home is a great place to start to familiarize your puppy to all the sights and sounds of everyday life. Socialization also includes sounds like washers, dryers, telephones, vacuum cleaners, kitchen cabinets and should be introduced as to avoid any future fear behavior.
Try items such as doorbells, and mail-boxes, (invite the mail man in for a coffee) to further de-sensitize the puppy to these noises and situations that you may not foresee in training.
After your pup has received its initial vaccinations, take him out into public to socialize with strangers, co-workers, children, and elderly people. If car travel is a commonality for you, take your pup for a ride.
A walk at the park is an excellent place to start, and your puppy will be adored by everyone.
Puppy training classes offer an excellent opportunity for your puppy to play and socialize with other puppies, owners, and trainers. Your pup does'nt care if his new play-mate is a Boxer or a Rottweiler, so introduce him to every breed possible.
He'll be having fun and making new friends all in a structured environment which enhances proper socialization behavior.
What if my puppy is scared?
During puppy socialization training you may find your pup intimidated or frightened during certain situations.
It's important not to praise or reward your dog for fearful behavior. This may send the wrong signal to your dog that fear is encouraged and may lead to future issues. Instead, remove the puppy from the situation and take note that this is a circumstance that needs to be dealt with in smaller incentive levels.
Praise and reward are offered at incremental levels until your puppy is comfortable dealing with the previously fearful situation.
You'll know your puppy is no longer fearful when its ears are relaxed and his tail is in line or below the spine with tail wagging.
Puppy socialization is a wonderful and satisfying time in your puppy's life, so enjoy it!
You'll be rewarded with a well behaved and friendly dog in the future as you progress with training. Remember, socialization continues on for life and there is no better time to start than with an adorable eager puppy.
---
---